Moderators: timetravel, ukdrn
hello does anyone know what happened to the ed shaver amc amx
[/img]
#4510
by
muddytalker
Sat Sep 08, 2007 8:52 pm
This has gone unanswered for too long. I haven't found anything as for yet but the Hot Wheels/JWR AMX was a modified version of the standard machine with a 390ci American Motors V8 bored to 401ci (6.4 litres) running on petrol in the NDRC and BDR&HRA Street divisions.

In 1971, the Hot Wheels AMX was featured in 17,000,000 boy's comic's in a promotional competition with the American owned Mattel Toy Corporation. Prizes ranged from complete Hot Wheels racing strip sets to replica's of Ed Shavers AMX which, at the time, didn't feature in any of the HW catalogue range.
#4511
by
muddytalker
Sat Sep 08, 2007 9:04 pm
Eventually I knew we'd find the answer. According to 'National Drag Racer', the AMX was retired shortly after the start of the 1972 season to 'boulevard cruising'! Who the new owner was is not known but the race 401ci V8 was replaced with a mild 290ci AMC engine and an out-of-sight pink paint job from Nottingham's Pete Ferries shop. As for Ed Shaver, well he was linked to two project rumours; the first driving a Jack Pearce GT40 and a Santa Pod owned fuel slingshot!
#4513
by
muddytalker
Sun Sep 09, 2007 11:23 am
While looking for further information regarding Ed Shaver's
Hot Wheels/JWR AMX
has anyone caught the following web link featuring a very informative tribute page to 'Shootin' Ed Shaver yet!
http://www.planethoustonamx.com/stuff/h ... shaver.htm
.
The page contains photos of the real JWR AMX as well as references to Mattel's version of the car. There's also a nice tribute at the end of the page to Ed and his association with drag racing and the John Woolfe Racing Team before his untimely death in 2000.
Below is a couple of items from my collection. The first is a page from a Hot Wheels promotional booklet with all three cars pictured at a 1971 NDRC meet at North Luffenham. The other is reprinted from the first issue of National Drag Racer magazine with the team lined up in front of JWR's first headquarters.
#4701
by
muddytalker
Tue Oct 02, 2007 9:52 pm
Just found this picture of Ed's AMX after its
JWR/Hot Wheels
race days in Mike Hill's
'Wild Cars'
book from 1973. Sorry about the quality.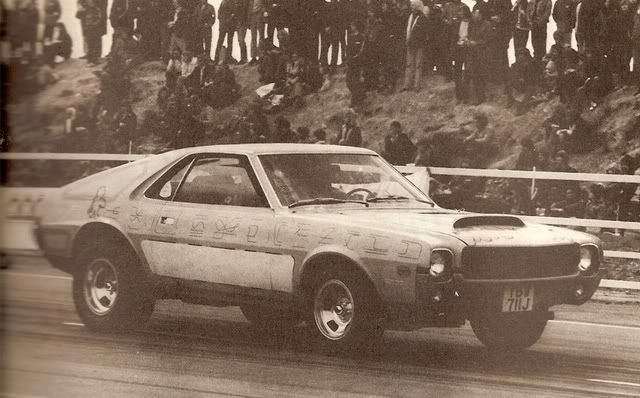 I remember Ed Shavers AMX, Pete Farries, had a picture of him in the passenger seat whilst doing a run at Santa Pod with Ed.
Mick
#22662
by
muddytalker
Sat Jan 08, 2011 4:20 pm
Not a great shot I know but another from my own collection of the Hot Wheels JWR AMX.
just a thought but when i first met the wratten bros they had a amx that was gonna be the next racecar for them but they went to the altered instead no clue what happened to it or if it was the same car this was in the late nineties.
#28797
by
muddytalker
Sat Mar 24, 2012 5:02 pm
A nice shot of Ed leaving the Santa Pod start line.