Moderators: timetravel, ukdrn
Thanks for the in depth history
the new cars looking great.
Fine looking car you have there.
Did i buy a Dominator from you ? Dont worry it's not broke
Eastern raider wrote:Fine looking car you have there.

Did i buy a Dominator from you ? Dont worry it's not broke
Thank you.
I did sell that Dominator...how's the car coming along?
Eastern raider wrote:Slowly
I know that feeling!
The small block out of Chris Round's Rebellious car is now in my car......also the same engine which ran 5s in Peter Schofer's TMD
Spoke Peter and crew when they ran the small block. It's a Rick Santos motor. Did real well with it in TAD. Rumor has it. he scared the Hemi suppliers so much they lobbied to get the rules changed.
Hello all . i have not been on hear for ages so i didnt see this thread.
i bought Rebellious from chris round 3 years ago , minus the engine and lenco , but i got all the other parts .
i am a regular racer at york which is where i met chris and i caught the bug . sins buying the car work / finances / meet a lovely lady and haveing 3 kids has put a hold on getting the car out .
i was just starting to put a 1.8 vw turbo engine in it last week when a frend found me a BBC for reasonable money, this is the engine i have wanted to put in all along not a vw .
i am hopeing to be out next year ?????????????????? (isnt that wot we all say), but just running a stockish engine for now.
i would realy like it if you lot could help me with the history of her , i know that she was in malta before chris got her but i dont know when , who had her etc.
i live in the north east very close to flav and a few other racers.
any info will be gratfully recived .
andrew leigh
ps i know me spelling is crap sorry
Hello just a bit of a thread resurrection. i am the current owner of rebellious and my work situation has changed quite a bit, self employed and not making any money. So the dragster is now for sale. I have sent a advert to eurodragster and i will put one in the for sale section. If any of you know someone that might be interested please call me. thanks
Andrew Leigh 07711397534
Ok - here is the definitive history of the "Rebellious" dragster up until Chris & Clayton Round purchased it from Bernie Hepworth/Borge Brothers.
The car is a 1977 Ruthven Engineering chassis (or was originally) and was raced in Top Alcohol Dragster at Division 7 and NHRA national events by Gary Christensen until I bought it in 1989, it ran a best of 6.2 with a Chev/Rodeck engine at Pomona.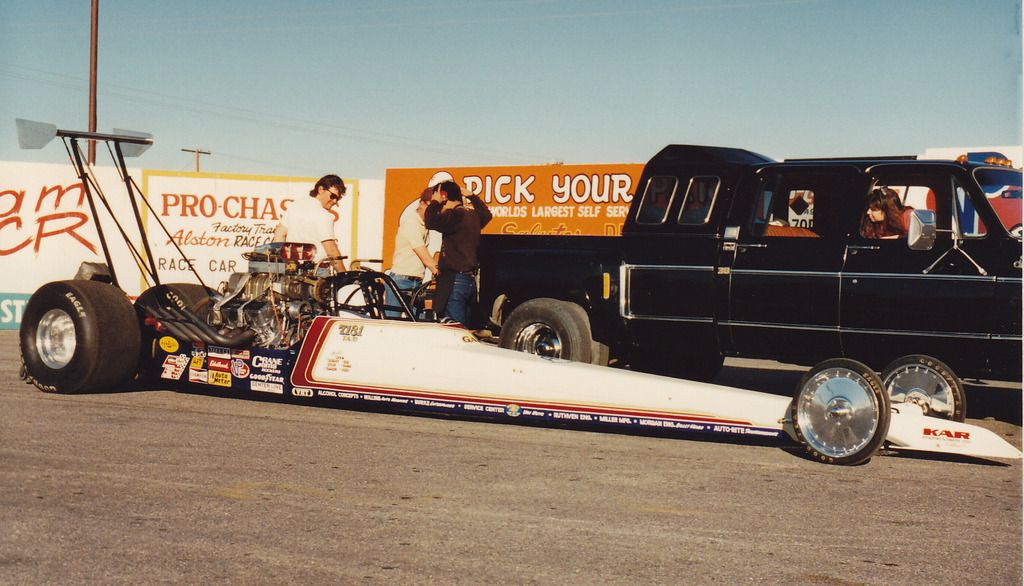 The car was imported by myself (complete) and ran in Pro-Comp with a best of 6.4.
A serious engine blow-up forced a temp retirement and sale of the rolling chassis to Bernie Hepworth who put an all aluminium small block in it, raced in Top Methanol for about a year, put a new front end on (with small wheels) and lengthened the rear of the chassis, he then took it to Malta where the Borge Bros raced it - the rolling chassis then returned to the UK a few years later for Chris and Clayton to buy.